The Princes' House Parlor and Transept
The building measures on the almost 900-square-meter-large complex took 20 years. The affectionately restored Princes' House Parlor and Transept has been open to the public again since 2012. Discover impressive and noble residential and representation rooms.
The Castle Chapel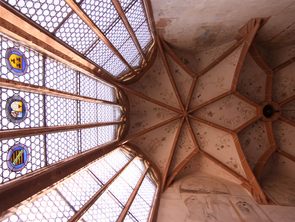 With its impressive cross-ribbed vaults, the castle chapel is one of the architectural specialties at Rochlitz Castle. The Wettin princes Ernest and Albert assigned Court Master Builder Arnold von Westfalen with extending what then was the chapel. Only fragments of the walls that had been painted in the fresco-secco technique have been preserved to this day, but none of the stained- origine and fishbone glass windows. Yet, the castle chapel spreads unique charm – above all, for its spectacular acoustics.
The Castle Cellar
Partly hewn into the rock, partly built up in brick, the »Long Cellar« is part of the wing for supplies, which were kept fresh longer at the constantly low temperature. Imprints of medieval formwork boards from the time of the castle's origin and fishbone-like walls can be marveled at still today. Most varied events are stage in the mystical ambience of the castle cellar.
The Black Kitchen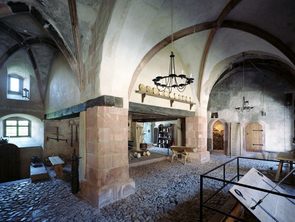 A huge hearth and an enormous chimney dominate this room: the Black Kitchen is almost 1000 sqare meters large and, therefore, a special highlight at the castle – as it is operational. Back in those bygone times, there was hustle and bustle there when hundreds of guests were catered for at the same time. Today you can marvel at the castle kitxchen, but, what's more, you can even join in medieval cooking course.
The Towers
The landmark towers »Lichte Jupe« and »Finstere Jupe« have Rochlitz Castle appear like fortified cathedral. Originally intended as residential towers, they both accommodate still today dungeons and the torture chamber is in the »Finstere Jupe«. One of the prison cells has been recreated in its realistic form; the others hold a considerable treasure: the castle library. Ascend the 142 stairs of the »Lichte Jupe« and enjoy a magnificent round view over Rochlitz and the Mulde River valley.
The Battlements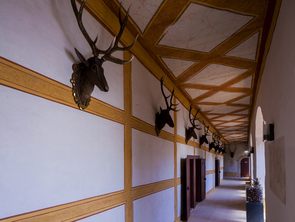 One can get from tower to tower via a housed-in battlement in the west. The rear entrance access area of the castle could be guarded very well from there. In the north, another battlement joins the »Finstere Jupe« with the Princes' House Parlor. This is the place, from where the holes in the tower can be seen easily, which were caused by cannon balls in the Thirty Years' War.
Contact
Rochlitz Castle
Sörnziger Weg 1 | 09306 Rochlitz
Property of State Palaces, Castles and Gardens of Saxony, non profit
+49 (0) 3737 4923-10
rochlitz@schloesserland-sachsen.de